When someone has a kid, they are not just receiving a tiny human into their home. They are also welcoming an unending quantity of stuff. Parents rapidly learn another parenting fact while shopping for a stroller for the first time; that a stroller isn't simply a stroller. Strollers can assist while you get around with your new baby. They make traveling out of the house with your baby easier, so you will surely receive your money's worth.
There are a variety of strollers available at various price points, each designed for a specific lifestyle or requirement. Speak with experts to discover more about many stroller types and what characteristics you should look for in a stroller.
Do You Need a Stroller?
The majority of parents choose a stroller after their child is born. Although a baby carrier can be used instead of a stroller, many parents prefer the convenience of a stroller for walking, running, and going out with their infant.
When Do You Need a Stroller?
You can use your stroller from the moment your baby is born. You can begin using a stroller when your infant is roughly six months old and can sit up and control their neck.
Most strollers can support children weighing up to 50 pounds; however, this varies by model. So, while a stroller is an expensive purchase, you will get a lot of usage out of it.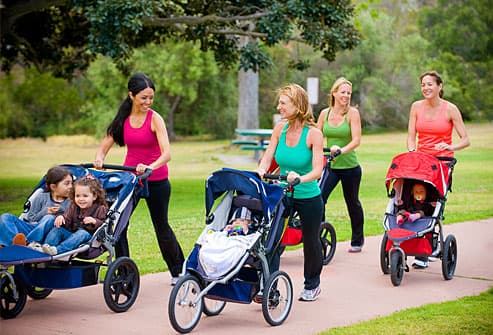 What Types of Strollers are there?
There are a variety of strollers to choose from, including the following:
All-Purpose Strollers
Strollers are ideal for everyday activities such as strolling around the neighborhood or strolling through a store.
Travel Systems
A travel system is a stroller that comes with an attached infant car seat. Travel systems are popular with parents since they can use them from day one. Parents can purchase a travel system that includes a stroller and a car seat from the same manufacturer, or you can mix and match brands to create your own. All you have to do now is make sure your stroller and car seat are compatible.
Lightweight Strollers
Lightweight strollers, as the name implies, are much lighter than standard strollers. They are also known as travel strollers and tiny strollers. They are ideal for vacation or parents who need a stroller that can be folded up and carried easily (think going up and downstairs, riding public transit, taking it in and out of car trunks, etc.).
Double Strollers
Strollers that hold two children at once are known as double strollers. A double stroller might make your life a little simpler if you have twins or small children that are close in age. There are two types of double strollers, in-line (front to back) and side-by-side.
Convertible Strollers
A convertible stroller can be converted from a single to a double stroller. If you plan on having two children who are close in age, convertibles are a good option. Convertibles, like double strollers, are available in in-line or side-by-side designs.
Jogging Strollers
These strollers are designed to handle harder terrain and include upgraded suspension systems for a more comfortable ride.
Overall the Best Stroller (Baby Jogger City Mini GT2 Stroller)
Merits
· Price plus performance are an unbeatable combination.
· Folding with one hand is simple and quick.
· It is simple to push and steer.
What Experts Say
The City Mini GT2 is a clear choice among Baby list parents. This popular stroller offers an unbeatable price-to-performance ratio. It has all-terrain everlasting air rubber wheels and all-wheel suspension, and genuine one-handed folding, as well as a near-flat seat recline. If you want to put together your travel system, it's also compatible with a wide choice of infant car seats. The GT2 is ideal for city and suburban dwellers alike, and when folded, it can be stowed in small areas.
Best Convertible Stroller (UPPAbaby Vista V2 Stroller with Bassinet)
Merits
· It expands to accommodate up to three children as your family grows.
· Suspension on all four wheels and easy steering/turning.
· Offering a variety of high-end features.
Experts Opinion
The Vista is all about providing possibilities for growing families. From birth, use the attached bassinet for strolling or for sleeping. Replace the bassinet with a front-facing or rear-facing toddler seat as your child grows bigger.
Adding a second child?
For a big kid who wants to stand and ride, add the multi-directional Rumble Seat or the Piggyback Ride-Along Board.
You will not be disappointed with the performance. Parents will appreciate the Vista's high-end features, including an excellent suspension system, full seat recline, telescopic handlebar, large under-seat basket, and adjustable canopy.
Best Travel Stroller (Chicco Bravo Trio Travel System)
Merits
· Excellent value.
· Includes a well-known newborn car seat.
· Self-standing folds.
Experts Opinion
Chicco's travel system is all about value and convenience. It comes with a stroller with a one-handed self-standing fold, a height-adjustable handle, and a parent tray, as well as the popular KeyFit 30 infant car seat. You may either clip the car seat right on top of the ordinary seat or remove the regular seat and use the included adaptor to conserve weight. When your child rides in the KeyFit 30, the canopies from both seats meet and overlap, creating the ultimate naptime cocoon.
Best Newborn-Ready Stroller (Nuna MIXX Stroller)
Merits
· Built-in bassinet.
· All-season seat.
· All-wheel suspension and other high-end features.
Experts Opinion
A bassinet is a nice stroller addition. The Mixx also has an all-wheel suspension, an adjustable handlebar of various heights for parents and caregivers, a two-way facing toddler seat, a big storage basket, and the option to unzip the back of the seat fabric to expose a mesh backing, which is ideal for hotter days.
Best Lightweight Stroller (Babyzen YOYO2 6+ Stro)
Merits
· Option to customize the color theme, add a second rider, and more.
· 14 pounds in weight.
· Quick, one-handed fold.
Experts Opinion
This popular lightweight model weighs just under 14 pounds and folds up with one hand. It's made to fit in a plane's overhead luggage compartment and comes with a built-in strap so you can sling it over your shoulder and carry it when not in use. You can also change the seat fabric to a different color at any time, which is a cool function.
Best Luxury Stroller (Mockingbird Single Stroller)
Merits
· High-quality design at a low price.
· Suspension is excellent for a smooth ride.
· It is guaranteed for life.
Experts Opinion
Your heart is set on a high-end stroller, but your wallet disagrees. You don't have to choose because the Mockingbird provides a lot of luxury for a lot less money than comparable strollers.
A modular seat allows you to face your baby toward you or out into the world, as well as a spill-resistant canopy with lots of sun protection and a built-in suspension system for a comfortable ride. There is a one-handed, self-standing fold and an XL storage basket. The lifetime warranty is fantastic, especially if you are concerned about the lower price point and durability.
Best Jogging Stroller (BOB Gear Revo Flex 3.0 Jogging Stroller)
Merits
· For years, runners have loved it.
· Adapts to any terrain with ease.
Experts Opinion
Jogging strollers are popular choices among Baby list families who find themselves frequently off the beaten route, whether you're a casual or competitive runner or just someone who wants to explore the outdoors with your kid. BOB is a well-known brand that is known for its durability, suspension, and several intelligent features.
The Revo Flex 3.0's ability to work on practically any terrain is due to its mountain-bike-style suspension system. The stroller's frame is made of aluminum, making it lighter than many other full-size strollers. The Flex is compatible with an infant car seat and comes with a spacious storage basket to hold all of your items. Don't forget about the nine-position adjustable handlebar, which is suitable for runners of various heights.
Best Umbrella Stroller (summer 3D Lite Convenience Stroller)
Merits
· near-flat recline.
· Lightweight.
· Affordable.
Experts Opinion
An umbrella stroller folds into a slender, vertical shape in a matter of seconds. Although they lack some of the features found in regular strollers, these types of strollers are lightweight and convenient.
The summer 3D combines a wide range of capabilities with under a hundred dollars low price point. The aluminum frame makes the stroller lighter (weighing roughly 13 pounds) and has a built-in shoulder strap for transportation. A near-flat seat recline, adjustable canopy, and an XL storage basket are also included.